2019 Press Release
FOR IMMEDIATE RELEASE:
Berkeley, California, U.S.A.
19, April 2019
CONTACT:
Benjamin Clavan, Architect
Email: info@berkeleyprize.org
---
Twenty-first Year
WINNERS ANNOUNCED FOR THE ANNUAL INTERNATIONAL
2019 BERKELEY UNDERGRADUATE PRIZE FOR
ARCHITECTURAL DESIGN EXCELLENCE
---
Winners of the twenty-first annual international BERKELEY PRIZE Competition for 2019 are announced today by Professor Raymond Lifchez, Chair of the BERKELEY UNDERGRADUATE PRIZE FOR ARCHITECTURAL DESIGN EXCELLENCE
Through two distinct competitions - the Essay Competition; and the Travel Fellowship Competition - the international BERKELEY PRIZE competition encourages undergraduate architecture students worldwide to go into their communities for the purpose of thinking and writing about issues central to the understanding of the social art of architecture.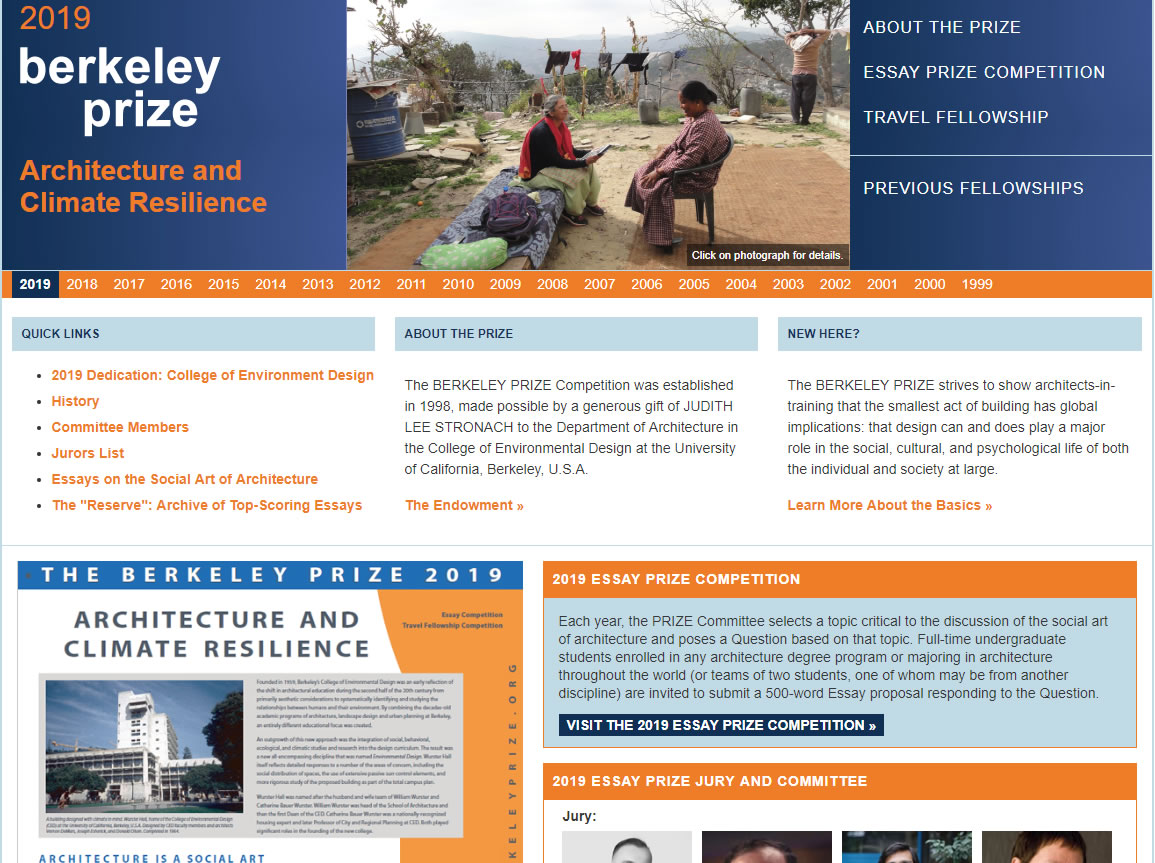 The 2019 BERKELEY PRIZE focuses on the topic: "ARCHITECTURE AND CLIMATE RESILIENCE." 152 competition submittals written by individual undergraduate architecture students and two-person teams from 43 countries were received in response to this year's Question:
What have architects done in the past and what can they do in the future to help reduce the negative effects of climate and climate change?
Go out into your community and find two buildings that exemplify a special design response to one or more specific climatic conditions. One of these buildings should be an example of traditional architecture in your region. The second building should have built within the last ten years. Tell us what it is exactly about these buildings that enable them to accommodate severe climatic conditions. Using these examples, identify three rules of design that will help other architects design for climate and climate change in the future.
The twelve 2019 BERKELEY PRIZE recipients, sharing a total awards purse of 42,500USD, are:
Essay Competition
First Place Prize #1 (Shared)
Ms. Muskaan Jain and Mr. Gurinder Singh Bachelor of Architecture students at the School of Planning and Architecture in Bhopal, India for: "Designing for Climate and Climate Change: A Paradigm Shift." (7500USD)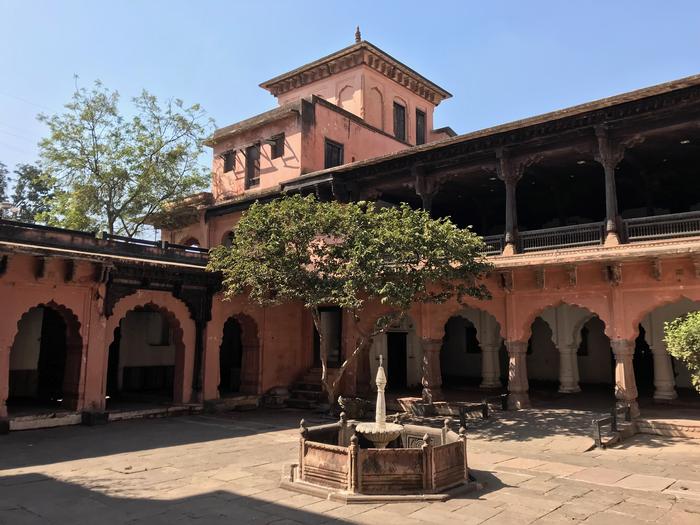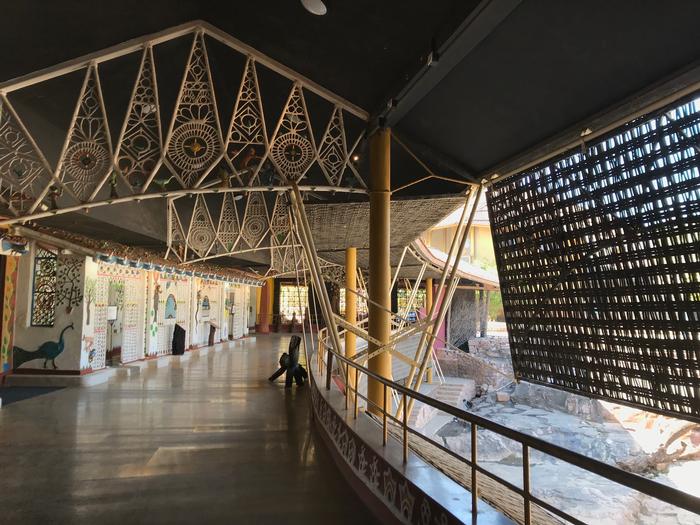 (Two of the four authors' illustrations for their essay.)
---
First Place Prize #2 (Shared)
Ms. Shahreen Mukashafat Semontee and Mr. Raquibul Hassan Bhuiyan, Bachelor of Architecture students in the Department of Architecture at the Bangladesh University of Engineering and Technology in Dhaka, Bangladesh for: "Thinking Water, Thinking Fluid." (7500USD)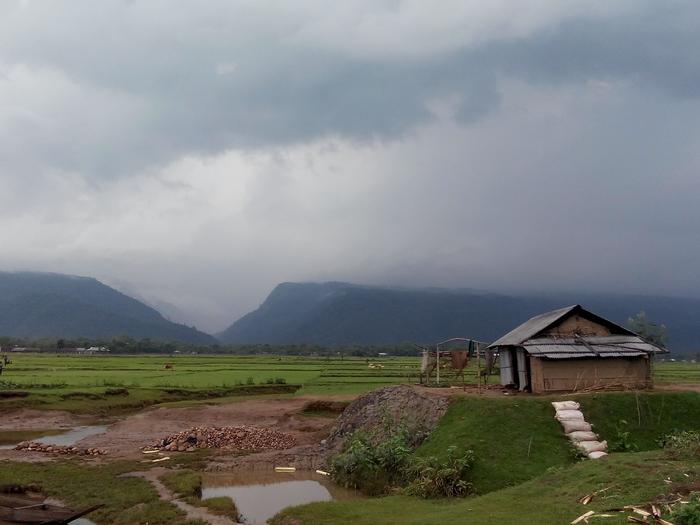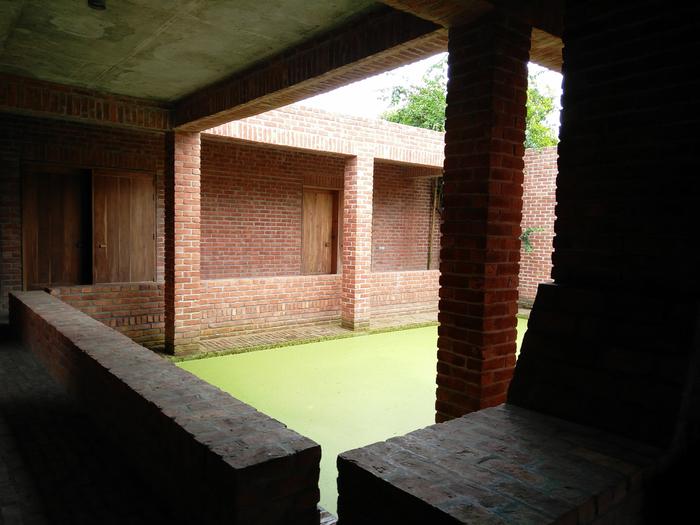 (Two of the four authors' illustrations for their essay.)
---
Second Place Prize
Mr. Cullen Sayegh, Bachelor of Architecture student in the School of Architecture and Design at the University of Tennessee in Knoxville, U.S.A. for "Isolated Space: Cultural and Climatic Continuity in Southern Appalachia." (6500USD)
---
Third Place Prize (shared)
Ms. Chiranjivi Jai Kaur Mankoo and Ms. Samriddhi Pandey , Bachelor of Architecture students in the Faculty of Architecture and Ekistics at Jamia Millia Islamia University in Delhi, India for: "Adapting Traditions In The New World Order." (5500USD)
---
All of the winning essays, plus the next 10 top-scoring essays are now available
to be read on the website on the BERKELEY PRIZE "Reserve" page,
see: http://berkeleyprize.org/endowment/the-reserve/

IIIIIIIIIIIIIIIIIIIIIIIIIIIIIIII
The Jury
Utilizing the preliminary review work of 66 Committee Members from around the world (see "Background" below), this year's four Essay Jurors are:
Fadi Masoud (Canada)
Landscape Architect, and Planner; Assistant Professor of Landscape Architecture and Urbanism at the John H. Daniels Faculty of Architecture, Landscape and Design, University of Toronto, Canada. Masoud's research and design work engages the landscape and its underlying systems as operational forces in shaping urbanism. His current work focuses on establishing relationships between these dynamic large-scale environmental systems, design, and the instrumentality of planning frameworks, policies, and codes. Among his community efforts, he currently serves as a member of the Resilient Toronto's Urban Flooding Working Group. Among other honors, Masoud is a former Fulbright Fellow, is widely published and has lectured extensively in North America and Europe.
---
Youssef Nassef (Egypt)
Director of the Adaptation Programme, United Nations Framework Convention on Climate Change (Bonn, Germany). A major focus of his work is the nexus of climate resilience with sustainable development. Building on three decades of work in international environmental policy, he has launched and implemented a number of ongoing initiatives at the United Nations supporting adaptation and resilience in response to climate change. These include the National Adaptation Plans for developing countries and National Adaptation Programmes of Action for Least Developed Countries; the Nairobi Work Programme, and the Warsaw International Mechanism for Loss and Damage. Nassef is a seconded diplomat from the Egyptian Foreign Service.
---
Avikal Somvanshi (India)
Architect and Urbanologist; Programme Manager, Sustainable Cities Programme, Centre for Science and Environment, New Delhi, India. His work focuses on greening policies and practices shaping the urban built environment was instrumental in persuading the Indian Government to enact India's first ever rules to manage and recycle construction and demolition waste. He has co-authored two books Building Sense: Beyond the green facade of sustainable habitat; and Building Wise: Exploring sustainable architecture in an unequal and changing world (upcoming). Somvanshi was a winner of the 2008 BERKELEY PRIZE Architectural Design Fellowship Competition and is a PRIZE Committee Member.
---
Susan Ubbelohde (U.S.A.)
Professor in the Department of Architecture and Associate Dean of the College of Environmental Design at University of California, Berkeley, U.S.A.; Principal and founding partner of Loisos + Ubbelohde (Alameda, California). L+U is an architecture and consulting office of "unconventional practice" that brings research methods to the practice of high-performance integrated design. The firm has pioneered new methods of lighting and daylighting design and analysis; design and fabrication of light sculptures; energy conservation and thermal comfort analysis; natural ventilation analysis; and building monitoring and data visualization. The application of these advances have led to numerous design and sustainability awards.
For fuller profiles of the Jurors, see:
http://berkeleyprize.org/competition/essay/2019/jury
IIIIIIIIIIIIIIIIIIIIIIIIIIIIIIIII
Travel Fellowship Competition
All Essay Competition semifinalists are eligible to submit proposals for the Travel Fellowship. Selected students receive a 3700USD stipend sufficient for round-trip airfare, daily expenses, and program costs for their travel plans.
This year's five winners are:
Mr. Edward Couper, a Diploma in Architecture student from the Sir John Cass School of Art, Architecture and Design at London Metropolitan University in London, England to travel to Badung Regency, Bali, Indonesia to attend the Bamboo Intensive Course of Bamboo U; and to Iloilo City, Philippines to attend an ASEAN Bamboo Congress for Climate Change Adaptation Towards Environmental Sustainability and Economic Resiliency.
For more information on these programs, see: bamboou.com, aseanbamboocongress2019.org
---
Mr. Philipp Goertz, a Bachelor of Architecture student at RWTH Aachen University in Aachen, North Rhine-Westphalia, Germany to travel to the Architectural Association London's Visiting School in Tokyo, Japan for their "Ring of Fire" course that will explore innovative new ways of designing shelters to respond to natural disasters in a 40,000 km area of the Pacific Ocean; and to Kyoto for self-guided research on adobe and clay-construction techniques in traditional Japanese buildings.

For more information on the program, see: aaschool.ac.uk/STUDY/VISITING/Ringoffire
---
(Shared) Mr. Ramzi Shadid, a Bachelor of Architecture student; and Mr. Mohammed Itair, an Urban Planning Engineering student, both studying at An-Najah National University in Nablus, Palestine to travel as a team to the Faculty of Built Environment and Surveying's 3D Geographic Information System (GIS) Lab in the Universiti Teknologi Malaysia (UTM) in Johor Bahru, Malaysia, to participate in a training program for applying 3D geospatial modelling for visualization and analysis of our built-up environment in terms of the relation between architecture and climate change.
For more information on the program, see: researchgate.net/profile/Alias_Rahman
---
Ms. Shanice Nyokabi, a Bachelor of Architectural Studies student in the Department of Architecture and Engineering at the University of Nairobi in Nairobi, Kenya to travel to Porto, Portugal to attend Critical Concrete's hands-on summer school program, "Practice & Theory of Sustainable and Social Architecture."
For more information on the program, see: criticalconcrete.com
The Travel Fellowship requires a written and illustrated report. These
will appear on the website with the launch of the 2020 BERKELEY PRIZE competition cycle.
IIIIIIIIIIIIIIIIIIIIIIIIIIIIIIIII
Watch for the announcement of the 2020 BERKELEY PRIZE
September 15, 2019
IIIIIIIIIIIIIIIIIIIIIIIIIIIIIIIII
BACKGROUND
The BERKELEY PRIZE - How it Works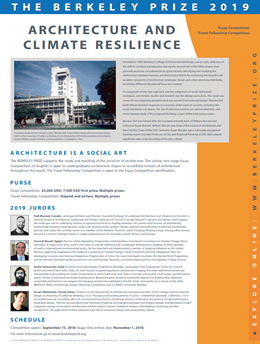 Each year, the BERKELEY PRIZE Committee poses a Question on the competition website. Students enrolled in any undergraduate architecture program throughout the world or those in collateral disciplines teamed with such students are invited to submit a 500-word essay proposal in English responding to the Question.
From this pool of essays, approximately 25-30 semifinalists are selected as particularly promising by the PRIZE Committee, a group of 66 international architects, architectural educators, social scientists, writers, and general thinkers. The semifinalists are then asked to submit a 2,500-word Essay expanding on their proposals.
The Committee then selects 8-9 of the best Essays and sends these finalists on to a jury of international architects and academics to select the winners. The BERKELEY PRIZE Essay Competition is announced, papers submitted, and reader- and jury-reviewed all online.
The Essay semifinalists are also offered the opportunity to participate in the BERKELEY PRIZE Travel Fellowship Competition. For the Travel Fellowship, students are asked to submit a proposal of how a given architectural travel opportunity will help them capitalize
on the research they did for their Essay and further their long-term academic and professional pursuits.
During the past twenty-one years, there have been 2462 essays and proposals, representing individual students and student teams from dozens of schools of architecture in 79 countries. In recognition of these efforts, the BERKELEY PRIZE is the recipient of the 2008 American Institute of Architects Collaborative Achievement Honor Award; and the 2002 American Institute of Architects' Education Honor Award.
The BERKELEY PRIZE has also garnered international acclaim, not the least reason for which is its complete embracing of digital technology. In partial recognition of this outreach, the 2003 BERKELEY PRIZE competition was named a special event of "World Heritage in the Digital Age," a virtual congress helping to commemorate the 30th anniversary of the UNESCO World Heritage Convention.
IIIIIIIIIIIIIIIIIIIIIIIIIIIIIIIII
Winners' biographies, photographs, and their full submittals; archives of past competitions;
information on Committee members; and links to other articles on the
social art of architecture are all posted at: